Looking Backward, Looking Forward, Part 1
January 16, 2020
Sometimes looking backward can be fun. Knowing where we have been often helps us know where we want to go. So we took a quick look and the teens and came up with a retrospective format where we would pick out one interesting project from each year and try to find something timeless, if not beautiful about each one. I am dividing up this retrospective into two newsletters, denominated by years. Let's start with 2010.
---
2010: Good Shepherd Catholic Church, Elk Grove, CA - HGA Architects
HGA expanded from its upper mid-western origins to California in a big way. They opened up four offices in Northern and Southern California in the oughts and started doing a lot of higher education and religious work. Of the many projects we photographed for them, Good Shepherd Catholic Church in a suburb of Sacramento was one of the most interesting. With curvilinear lines reminiscent of Notre Dame du Haut, this stunning gem of a church building is a surprise find in the central valley's often dull suburban sprawl.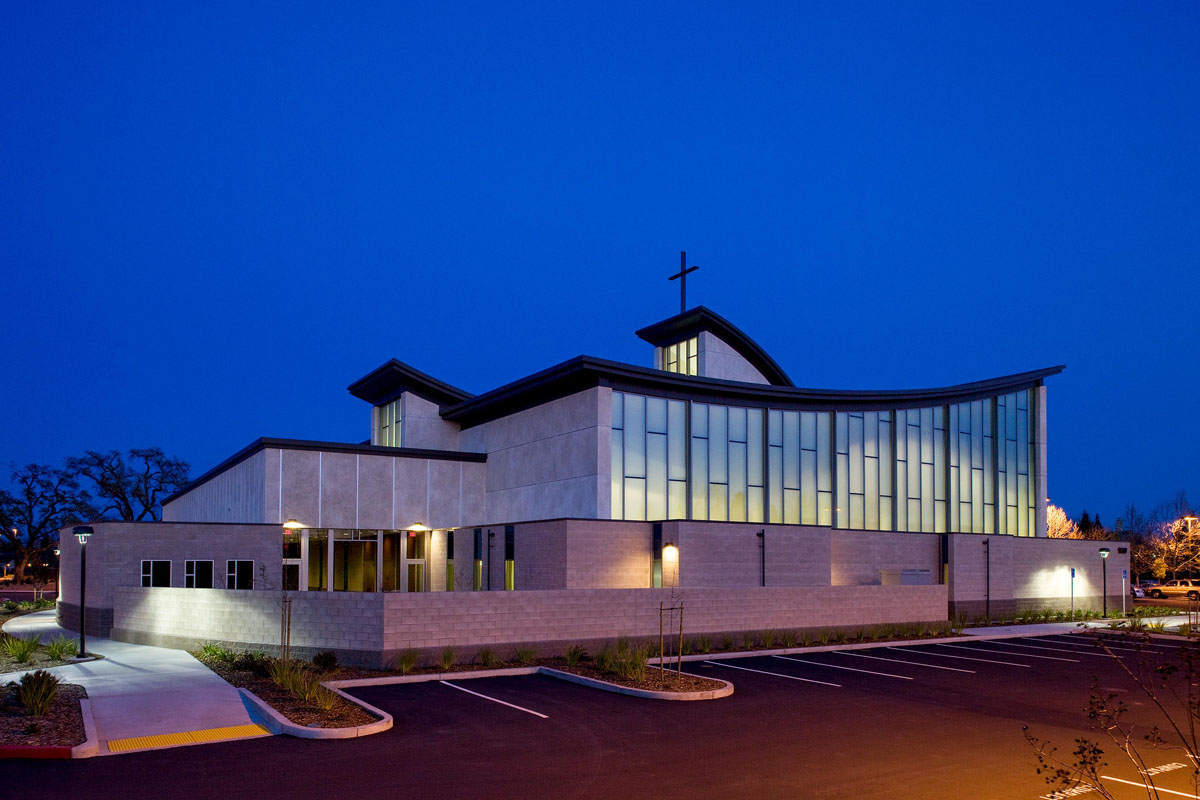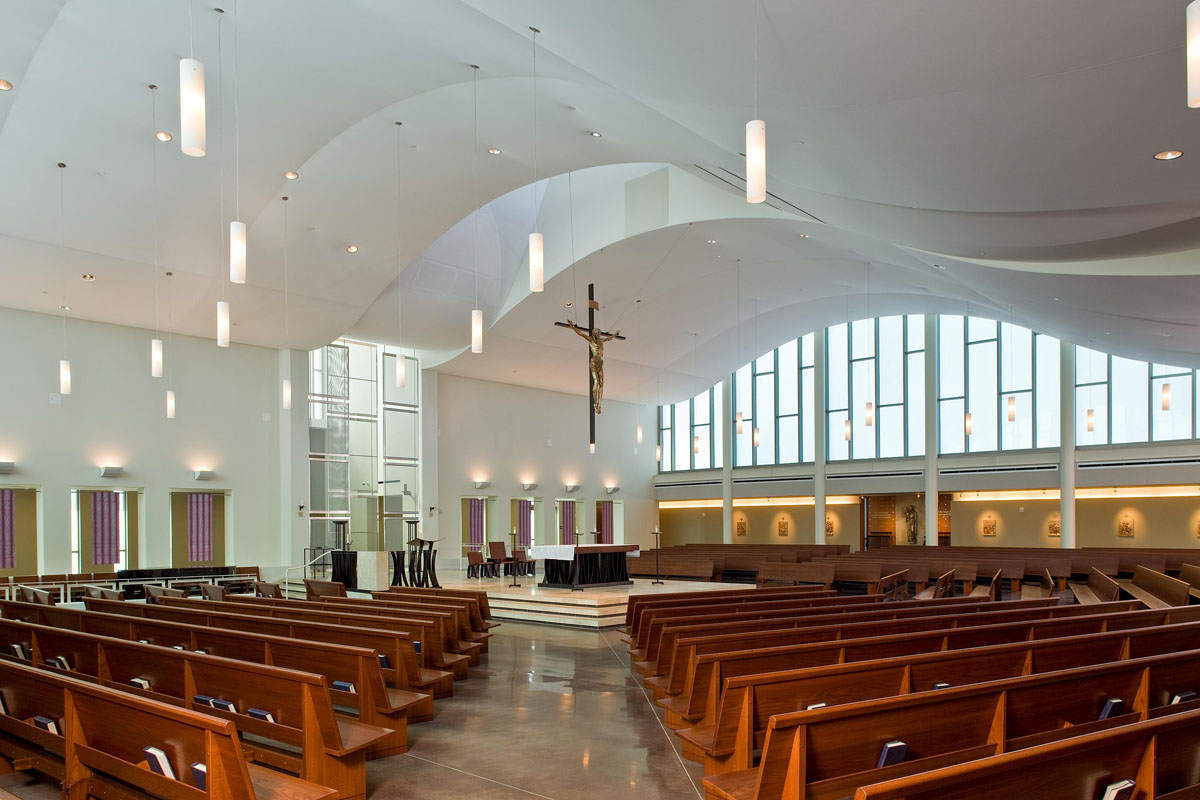 ---
2011: Two modern houses - Robert Swatt, Wm. David Martin
In 2011 I was in the middle of developing a survey book for Images Publishing of Melbourne and as a result, shooting a lot of houses around the U.S. Two great houses, one in the rugged East Bay hills of the Bay Area and the other on the edge of the Carmel River stand out. The Sinbad Creek house, by Robert Swatt, F.A.I.A. stands out for its simplicity of line and beautiful integration into the hillside environment.
The other, by Wm. David Martin, built on the edge of the Carmel River in Central California, is laid out along the lines of a classic Spanish hacienda with an enclosed courtyard and circular orientation. Both are dramatically modern yet very different in their approach.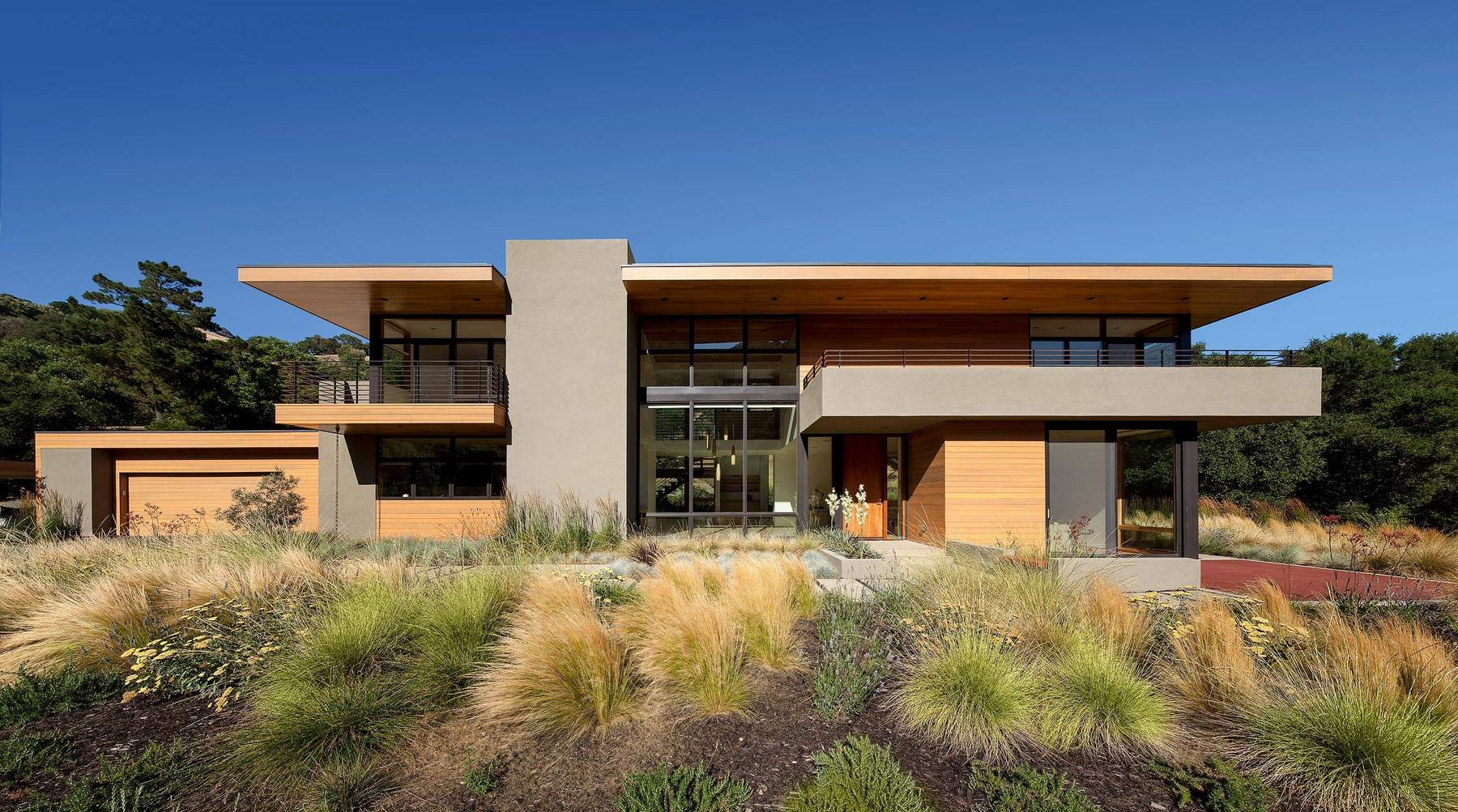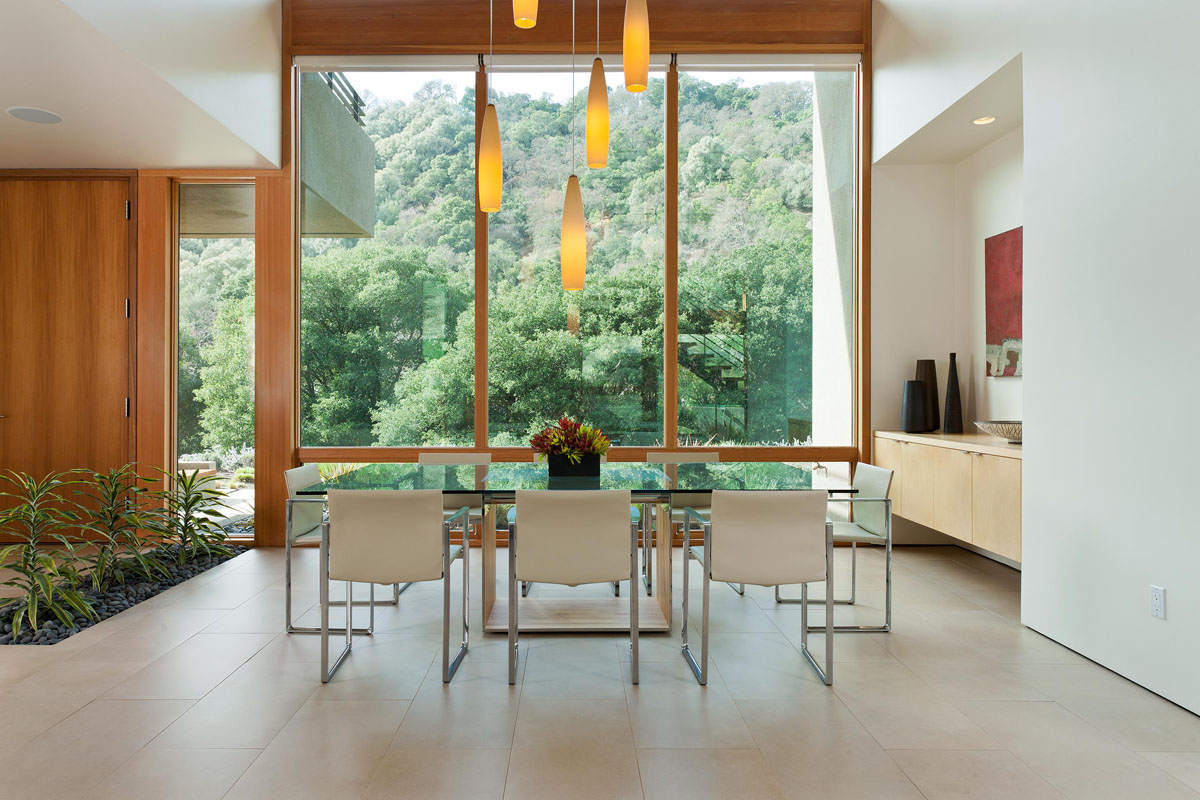 ---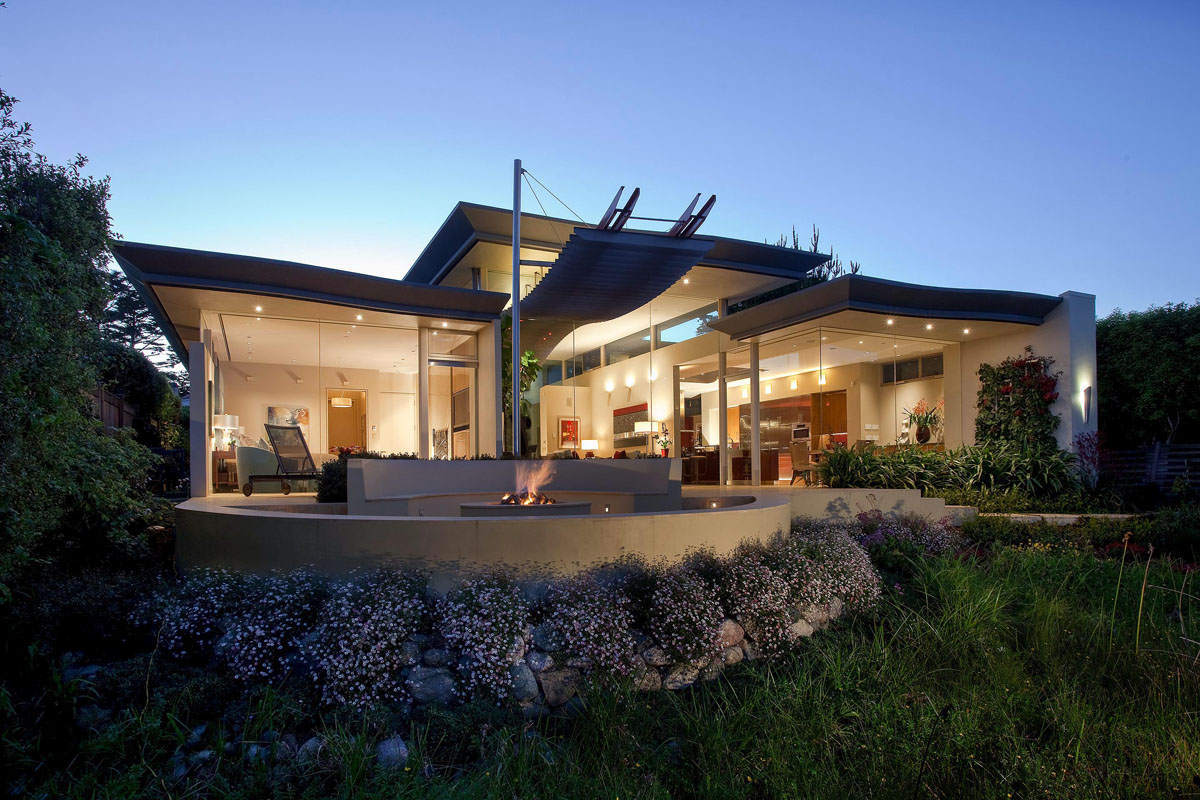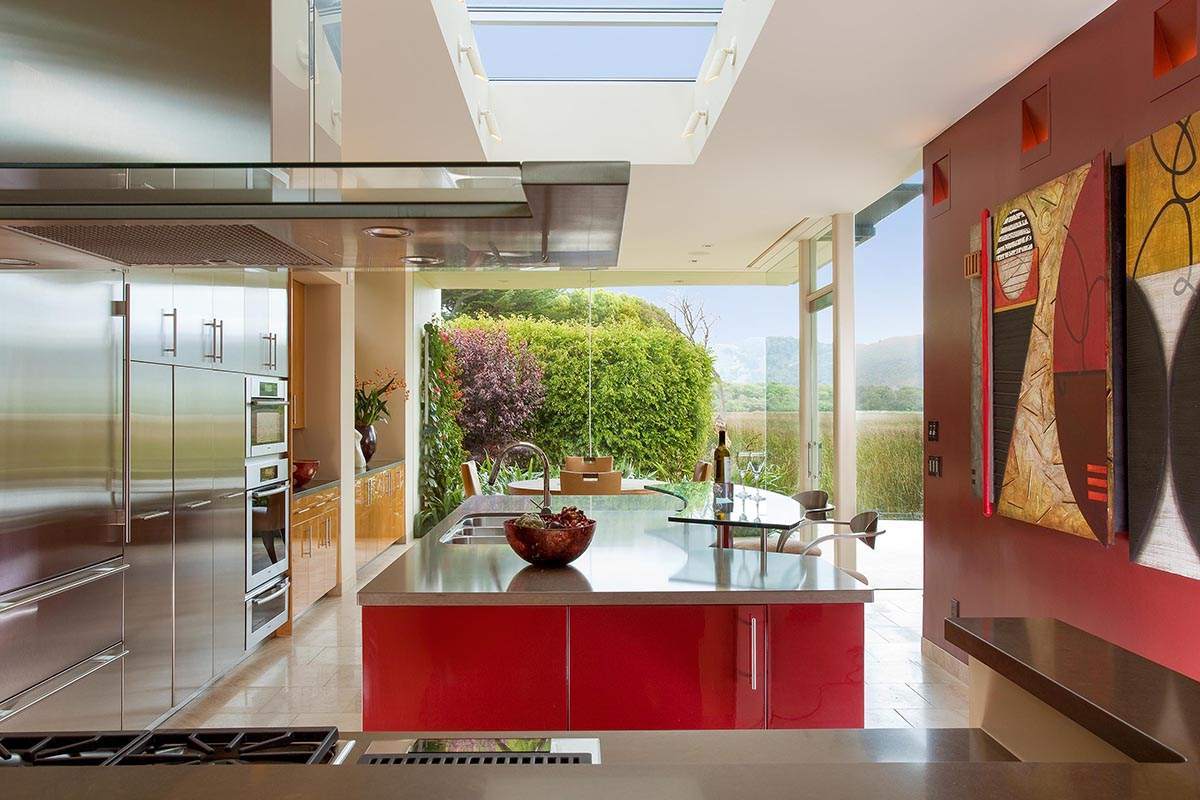 ---
2012: Martinez Commons student housing, Berkeley - EHDD and Behnisch Architekten
Just down the street from the notorious "People's Park" in Berkeley EHDD created a wonderful multi-functional student housing and services community center. Neo-Brutalism has certainly been part of EHDD's vocabulary, but in Martinez raw concrete gives way to wood, glass and metal design elements that are used to create a striking contemporary look. Berkeley Student Housing Services originally hired the German firm, Behnisch Architekten, but later called in EHDD to take over the overpriced and unbuildable design. The site was the home of the old Anna Head School which left in the 1970s and is slowly being absorbed into the Berkeley campus. Ironically, a year later, we ended up shooting the new Anna Head School (now known as Head Royce School) for Malick Architects in the Oakland hills.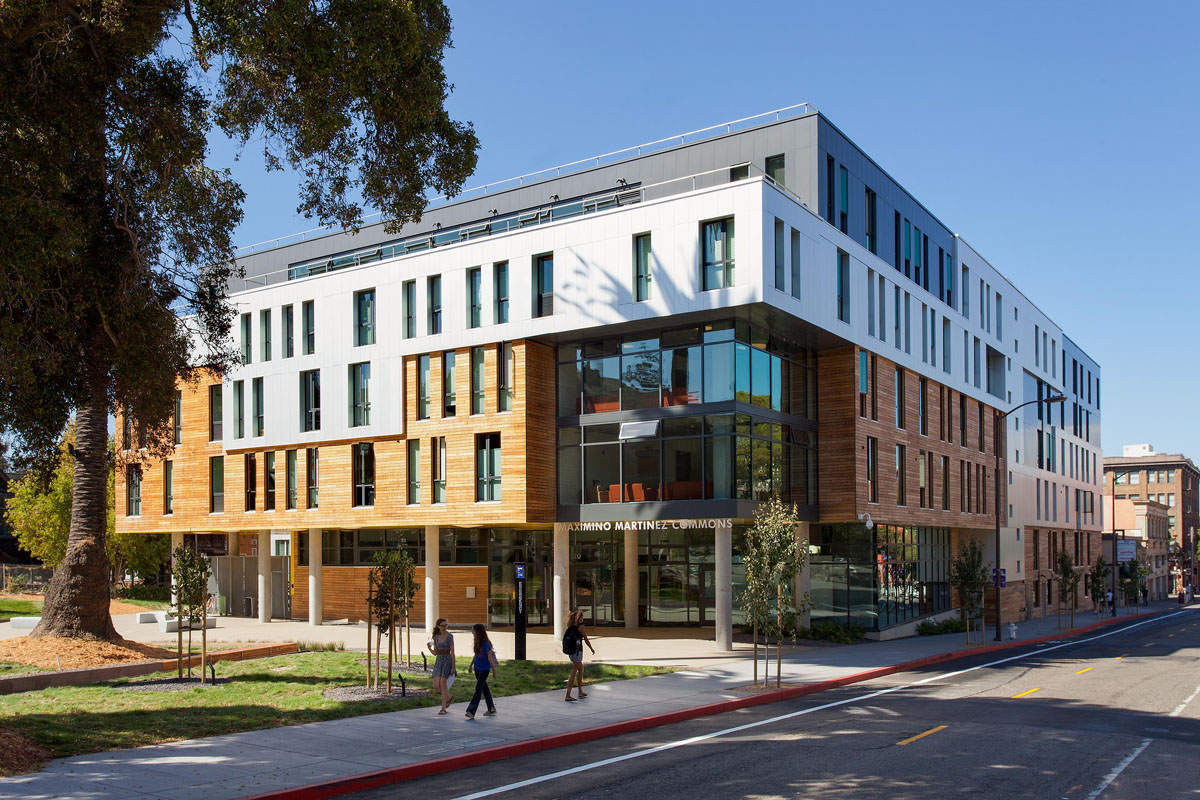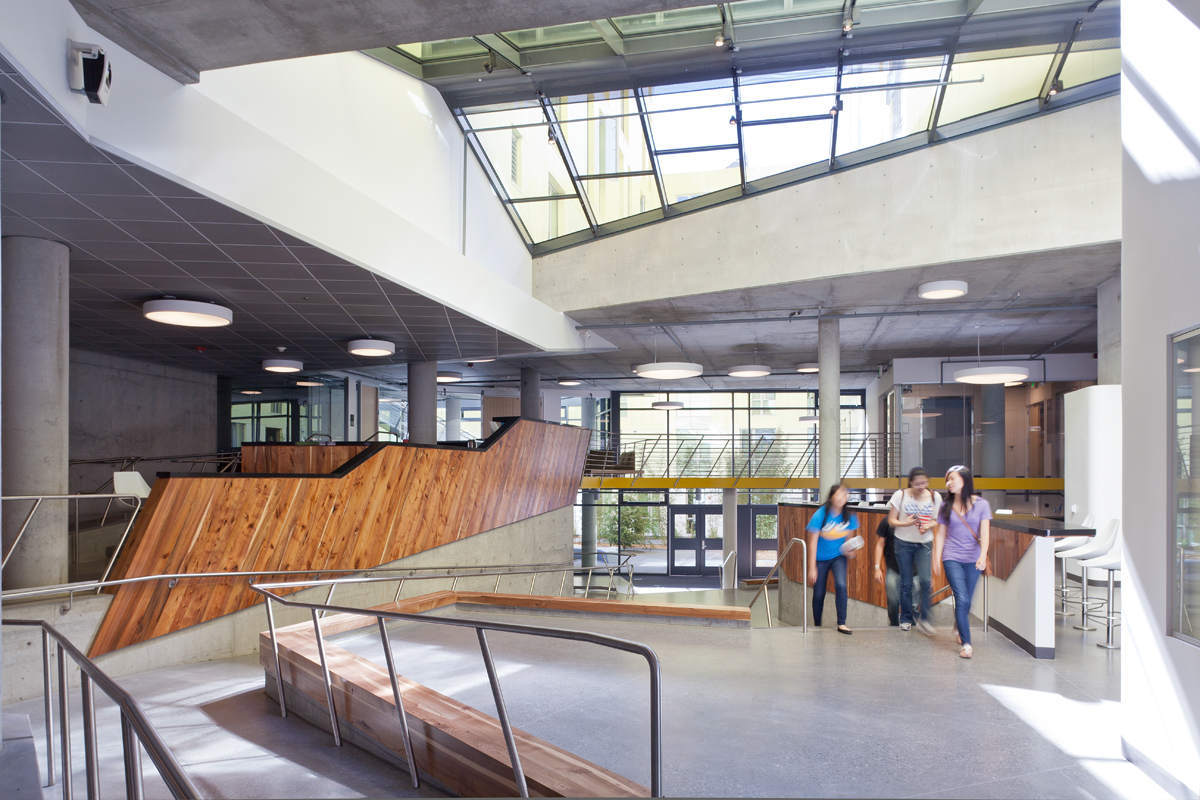 ---
2013: Scottsdale House and LA Valley College - Will Bruder Architect, Steinberg Architects
Working on another book project, I got the opportunity to work with Will Bruder in Phoenix, AZ photographing a house he did for a local family. Bruder is something of the heir apparent to a long line of princely architect outsiders starting with Frank Wright, that have made the Sonoran Desert home. Bruder's list of amazing award winning buildings is significant, but he still does houses. This Scottsdale house nestled in a hillside suburban site offers up surprise and delight at every turn.
Steinberg Architects in Los Angeles does a lot of academic and institutional work in the region. Their remake of the entrance and main plaza of LA Valley College is a tasteful effort to give a dramatic sense of place to an understated community college in the San Fernando Valley. The folded plate metal canopies offer both shade and a sense of place to the utilitarian administration buildings they are attached to.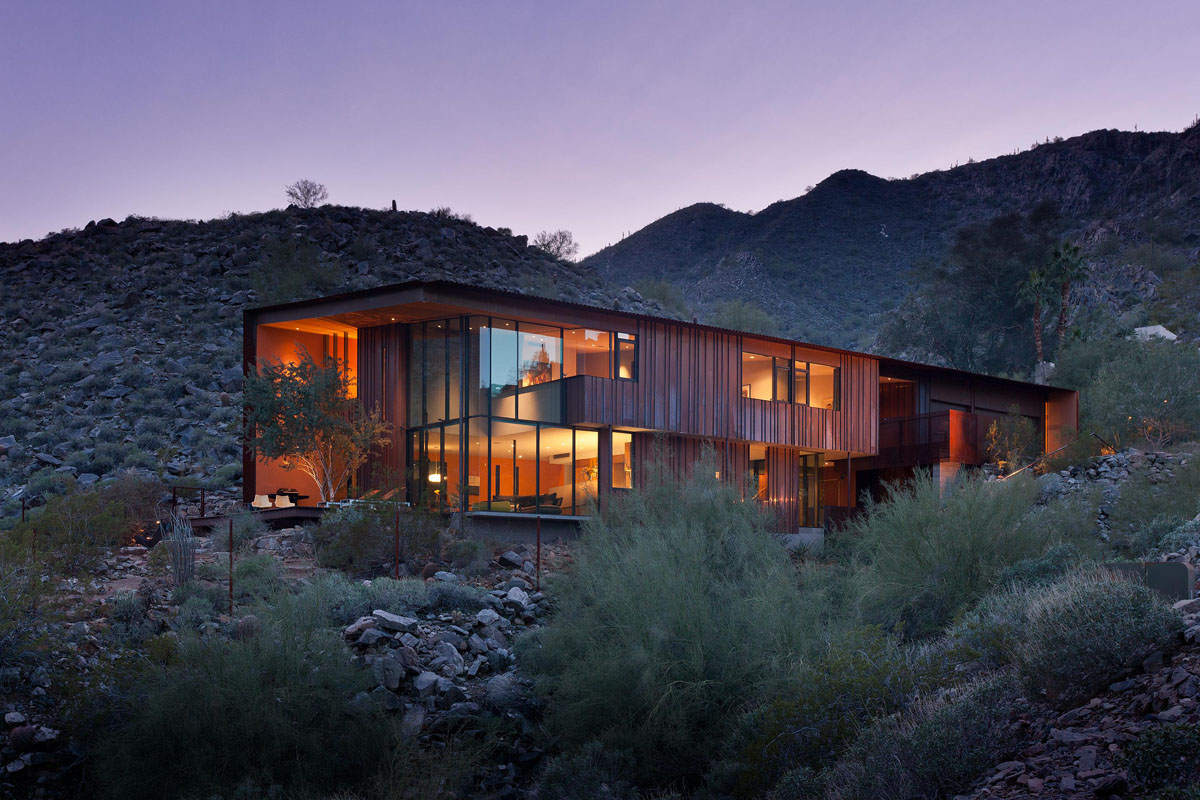 ---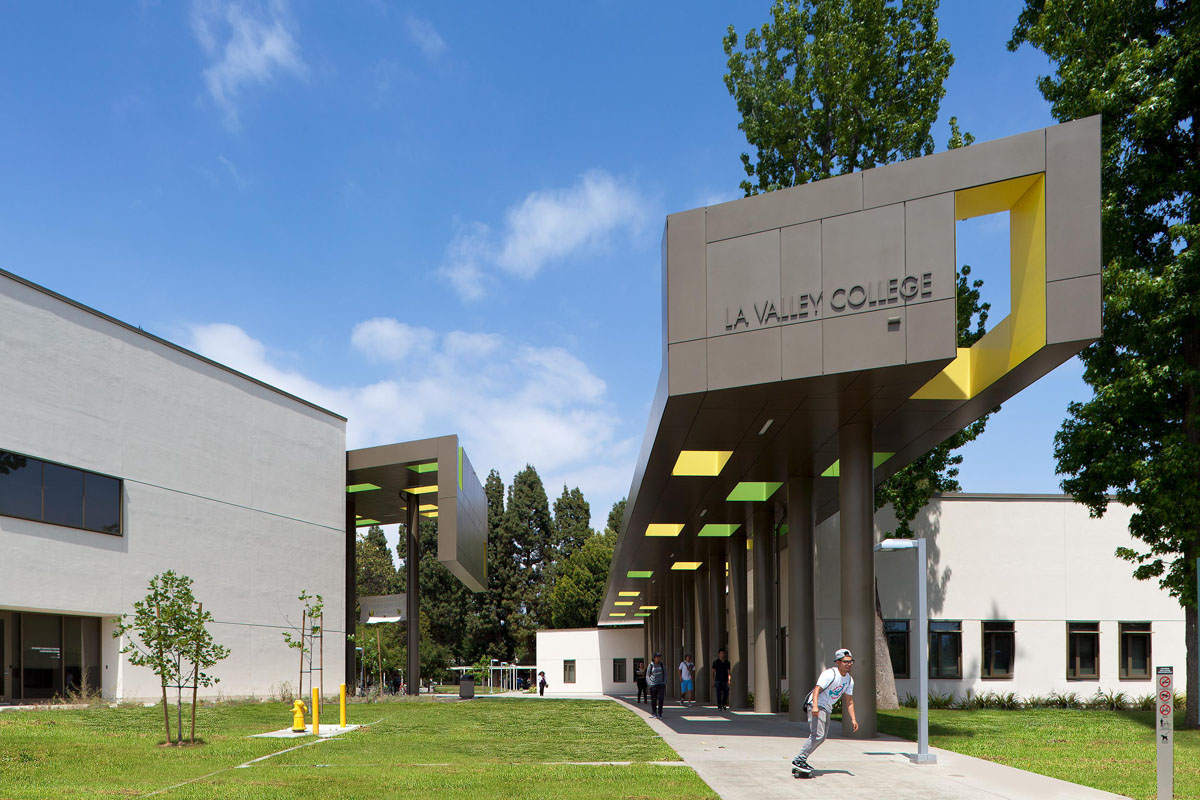 ---
2014: Pelican Point House, Carmel Highlands - Eric Miller Architects
Big Sur has a special place in California's cultural and literary past. In the 1950s it was discovered by the beats, then hippies and later, New Age types who made it their home or their place away from home. Think Alan Ginsburg, Gary Snyder, Henry Miller, Lawrence Ferlinghetti and Jack Kerouac. A generation or so earlier writers like Steinbeck and Robinson Jeffers lived or wrote about the place. Dramatic stone cliffs that jut into a swirling surf below offer some of the most breathtaking tableaus in North America. Here on a cliff overlooking Point Lobos, Eric Miller was able to create a dreamscape house with unparalleled views and jaw dropping beauty. And we were lucky enough to spend some time there photographing it.
Next month we will finish the decade review with five more spectacular, architecturally interesting projects that we have been fortunate enough to be part of. We would love to be part of your designs in the 2020s. Just click on the link and let us know what you need us to do: ra@russellabraham.com.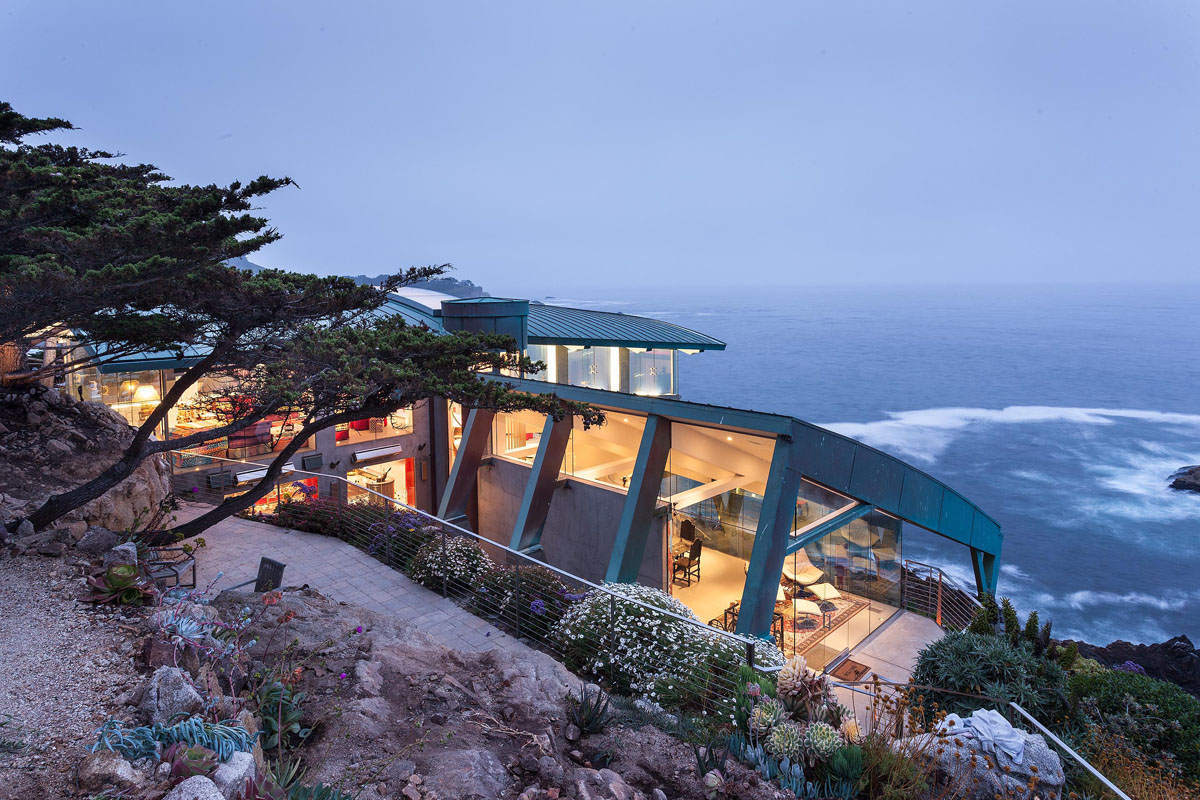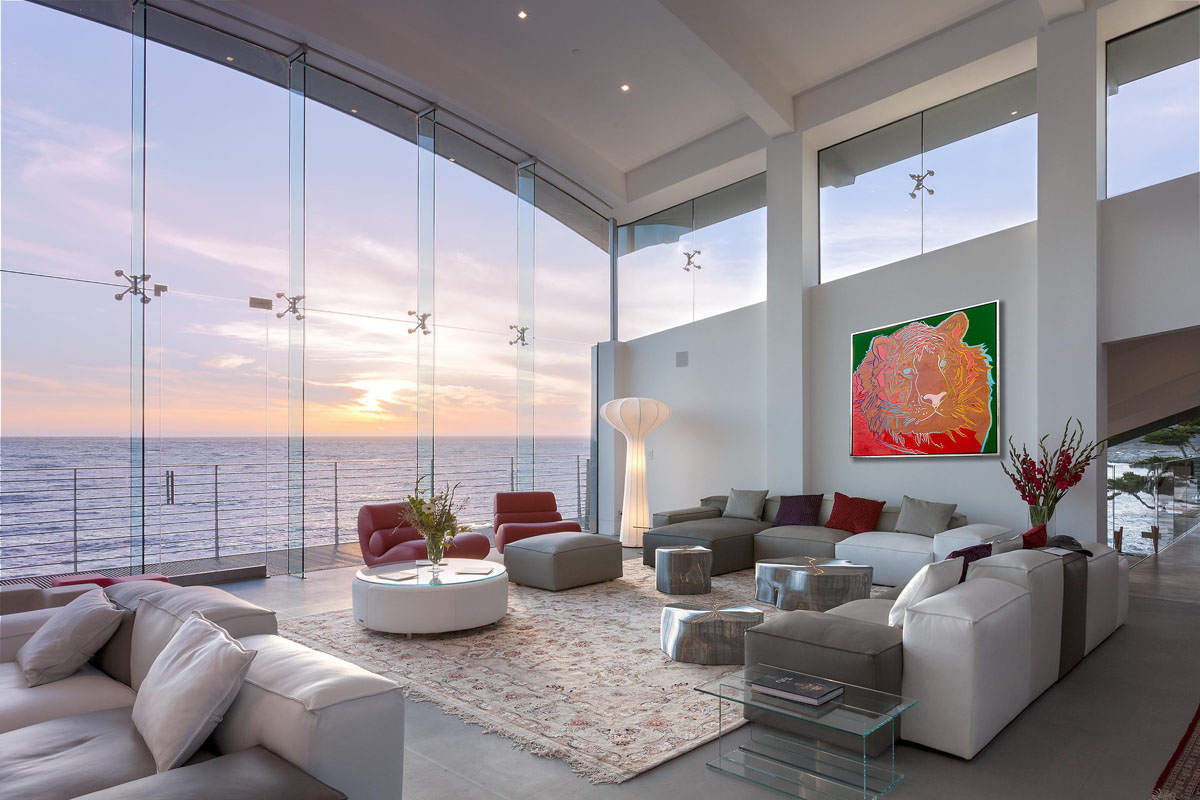 ---